Complete uniform regulations are detailed in the tables below. Wednesdays are spirit days, and thus allow for the specified spirit shirt to be worn on Wednesdays. Spirit shirts will be sold through the school. Regular uniform pieces are available at The Toggery.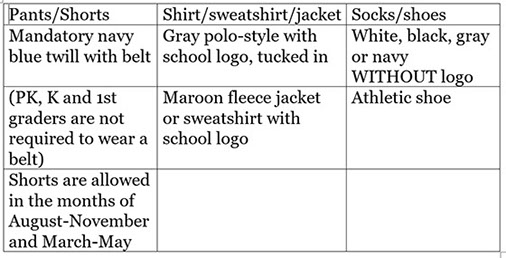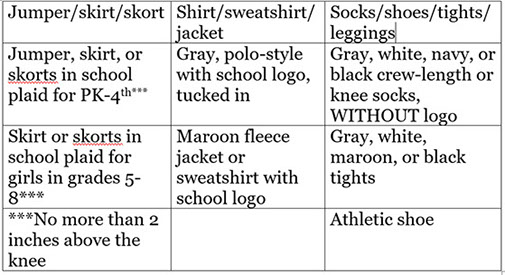 Uniform regulations for all students:

The uniform must be clean and neat.

Shirts must be tucked in.

Girls must wear shorts under jumpers/skirts/skorts OR in the cold weather, solid black pants or leggings may be worn under the jumper/skirt/skort.

Boys hair must be above collar, ears and brows. For all students, no eccentric hairstyles (such as shaved-in designs or colorful dye) allowed.

Girls hair must be worn out of the eyes and pulled back. No woven-in objects.

Girls may wear CLEAR NAIL POLISH ONLY.

Girls may wear stud earrings only, in the interest of safety. One pair. Boys may not wear earrings.

Seventh and eighth grade girls may wear light makeup.

Acceptable jewelry is religious (necklace, bracelet, ring). Watches are acceptable.

Undershirts and undergarments should be plain white or beige.

No perfume or cologne, no spray deodorant or cologne brought to school.